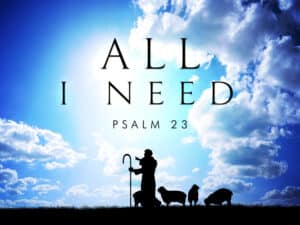 Romans 10:17 says, "So then faith comes by hearing, and hearing by the word of God." I'm very blessed to have a study Bible. It's filled with amazing teachings on the Word of God. As I read the scriptures out loud along with the teachings provided, my faith is taken to a whole new level.
Psalm 23 is a favorite among many, and I understand why. It only has six verses, but the words within acknowledge God's grace and goodness. King David understood this well, and now we can too because God's Word never changes. It's the same yesterday, today, and tomorrow.
Various individuals and ministries use Facebook to spread the word of God. Lance Wallnau has a great ministry, and God has anointed him to share the gospel is amazing ways. Lance shared a post on Psalm 23 that speaks volumes. Here's what it said. I pray it blesses you as it did me.
Psalm 23
The Lord is my shepherd, (That's Relationship) I lack nothing. (That's supply) He makes me lie down in green pastures, (That's rest); He leads me beside quiet waters, (That's refreshment). He refreshes my soul. (That's healing) He leads me along the right paths(That's guidance) for his name's sake. (That's purpose) Even though I walk through the darkest valley, (That's testing) I will fear no evil, (That's protection) for you are with me; (That's faithfulness); your rod and your staff they comfort me. (That's discipline) You prepare a table before me in the presence of my enemies. (That's hope) You anoint my head with oil (That's consecration) my cup overflows. (That's abundance) Surely your goodness and love will follow me all the days of my life, (That's blessing) and I will dwell in the house of the Lord (That's Security) forever (That's eternity).
Everything We Need Is In The Shepherd……I Do Mean Everything!
A thought came to me this morning. Tomorrow is the first day of a brand new year. I agree, everything we need in 2023, is in the Lord our Shepherd, as is written in Psalm 23.
Another blessing is found in Psalm 65:11: "You crown the year with Your goodness, and Your path drips abundance." We can expect good things to come in 2023. The Lord God, our Shepherd is good, all the time!
Happy New Year!