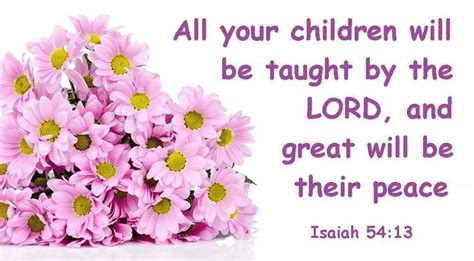 The Bible is filled with God's promises, and when we come to believe in these promises, and apply them in our lives, we will live a blessed life. Will we be problem free? No, but we have God's Word that He will help us in our times of need, regardless of what that need may be. He says so in Isaiah 41:13: For I, the Lord your God, will hold your right hand, saying to you, "Do not fear, I will help you."
The world is filled with evil. We need to keep our children and grandchildren covered in prayer. I've compiled a list of my favorite scripture verses pertaining to our offspring. God's Word is true. He is the same, yesterday, today, and tomorrow.
Psalm 25:12-13: Are there those who respect the Lord? He will point them to the best way. They will enjoy a good life, and their children will inherit the land.
Isaiah 54:13: All of your children will be taught by the Lord, and they will have much peace.
Psalm 102:28: Our children will live in your presence, and their children will remain with you.
Proverbs 14:26: Those who respect the Lord will have security and their children will be protected.
Proverbs 29:17: Correct your children, and you will be proud; they will give you satisfaction.
Isaiah 49:25: I will contend with those who contend with you, and your children I will save.
Acts 2:39: For the promise is to you, and to your children, and to all who are far away, as many as the Lord will call.
Psalm 103:17: For the Lord's love for those who respect him continues forever and ever, and his goodness continues to their grandchildren.
Acts 15:11: But we believe that through the grace of the Lord Jesus Christ, we shall be saved, (including our offspring, emphasis mine), even as they."
I encourage you to pray these verses over your children and grandchildren. Don't despair if they are not yet saved. God knows when their hearts will be open to receive the salvation message.
Remember what is written in James 5:16: "When believing people pray, great things happen."
I pray Psalm 115:14-15 over you today. "May the Lord give you success, and may he give you and your children success. May you be blessed by the Lord who made the heavens and the earth." Amen